1/07/12 Nick Edwards and Just Lulu jumping in the Charles Stanley Master Amateur Championship where he came 7th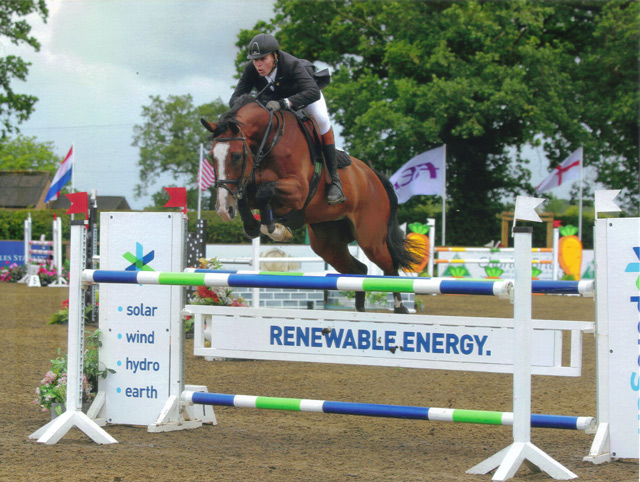 5th in Warmup class 30/06/12 at Charles Stanley
When everyone else was laughing at us mad outdoor people in the rain we just knew there would be days like this that make up for all the days we got soaking wet! X-country course next door to hack round at times, loads of fun and all in work time!!
At the Charles Stanley British Masters, Southview Equestrian Centre,Cheshire with Nick Edwards and Just Lulu. Warm Up class Friday and Championship Saturday. 5th in the National Warm up for Nick and Just Lulu! Nick and Lulu in Amateur Final at Charles Stanley Masters. Double clear -ended up 7th. Well Done Nick!
15/06/12 Courtesy of Anna Hammond at Mayes and Scrine with Balanced Horse Feeds too we spent Thursday evening fascinated watching Anna dissecting a horse's gut, explaining the whole digestion process whilst showing us how the food appeared in each stage, giving us examples of different colics and how they presented along with a lot more interesting info!
10/06/12 Kathryn and Rome at GBEC won the Riding Club horse and 3rd in the Working Hunter
Congratulations to Claire Loveland who has just had confirmation in the post that she has passed her BHS Preliminary Teaching Test! Well Done Claire
06/06/12 Mister Music Man and Reece have jumped only one British Novice 2nd Round and qualified the Finals for that and today they have jumped their first Discovery 2nd Round, come 5th and qualified for that Final at SCOPE too!
No chasing round the country to qualify for them this year- so pleased. Cracking rounds today- jumped his socks off and Reece rode so well too.
19/06/12 Another good day for Kathryn Blowers and Rome on Sunday- Dressage at Great Bookham Riding Club field. They came 4th in the National, 5th in the London and South East with 66% and 9th in the Riding Test with 67%.
10/05/12 Yard Dressage outing to Pachesham this morning. Steph came 2nd on Torando and qualified for Hickstead Unaffilliated Dressage Champs, Amy came 3rd on The Hen and Claire Loveland on Rocky came 6th. Amy and Claire's first dressage test - all 3 horses first test too! Well done
05/05/12 Well Done Reece Edwards and Mister Music Man
Reece Edwards and Mister Music Man jumped a treble clear in the Junior British Novice Second Round at Royal Leisure, Henfield, West Sussex coming 5th and Qualifying for British Showjumping SCOPE Festival in August.
04/04/12 Congratulations to Stephanie McClarance on passing her Pony Club AH Test.
01/03/2012 - Nick Pursuing His Dream of Showjumping Glory
Nick at the moment is taking a gap year to pursue his dream of show jumping. He was on the BEF Foundation Squad for show jumping and would now love to trial for the Under 21s. He has some new exciting horses and we are currently preparing for the outdoor season. Nick spends a lot of time at the yard during the week as well as weekends and often helps school the horses on the flat as well as jumping. When asked by a livery to compete their horse he is always happy to do so.